Prep tube 125 ml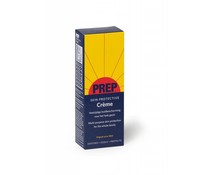 PREP is originally an American product and was used by millions of people since 1872. PREP was introduced in the Netherlands in 1936. Now available again via Trophax OTC.
Prep Multi-use skin cream, suitable for all superficial skin wounds, such as baby bills, after sunburn, piercing, etc. Now available via Trophax OTC.
PREP Cream has also been known for years as a shaving cream for sensitive skin. This cream promotes the sliding of the razor and protects the skin.