White teeth without hydrogen peroxide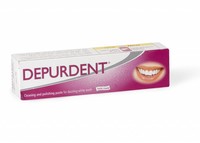 Would you like without using hydrogen peroxide? White teeth Choose Depurdent toothpaste Trophax OTC. This toothpaste is a safe, easy and inexpensive way to get white teeth and the toothpaste contains no h2o2! Use Depurdent toothpaste two to three times a week if:
You suffer from gritty and dirty teeth by excess plaque.
A long illness your teeth discolored.
The use of drugs has discolored your teeth.
Fast white teeth without hydrogen peroxide at Trophax OTC
If you want to book, but want to achieve without using h2o2 use white teeth fast results is Trophax OTC your partner! We offer you at surprisingly low prices Depurdent toothpaste. Because we are a specialist shop in the area of health and physical care, you will find in our various other products such as skin care products and hair care products .
Contact
Trophax OTC reached via the contact form . Additionally, you can contact us for questions about achieving white teeth without using h2o2 at +31 78 6105 727. Use For questions about your order and sending it, please call telephone number 036-7440440.
NEW FROM OCTOBER 2012 There is a new directive issued by the Ministry: Teeth whitening by more than 6% H2O2 is prohibited from 1 November 2012.