Trophax Wonderverband WHITE for Adults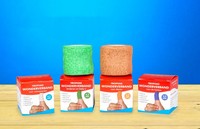 With this unique Trophax Wonderverband you can, for example, continue wounds, for example, hands, relaxing sports and holiday activities, even if your hands come in frequent contact with water!

Self-adhesive and painlessly removed.
Ordinary patches or traditional dressing will be reflected in the shortest time under the influence of water or friction. But with the Trophax Wonderverband, the hands can just get wet because, thanks to the specially developed, self-adhesive ability of this product, the skin is optimally protected from dirt and water. Trophax Wonderverband does not adhere to the wound itself and can therefore be removed easily and effortlessly without pain.
Elastic, waterproof, hygienic, breathable and dirt repellent.
The hygienic formula of the Trophax Wonderverband always fits and can be tailored as needed. Because every roll of Trophax Wonderverband is 4.5 meters long and 5 cm wide. The waterproof dressing is fully breathable (so can restore skin faster) and is   Suitable for both humans and animals. Wonderband is dirt-repellent and is available in the colors white, blue, green and brown.
Summary Trophax Wonderverband:
·

Indispensable in the coming holiday box at the campsite, at sports, gardening, etc.

·

Hygienic and breathable

·

Unique self-adhesive formula protects the wound optimally, WITHOUT sticking to the wound

·

Removing painlessly (especially important for children!)

·

Waterproof, so no obstacle to all kinds of activities

·

Easily cut to size

·

Dirt repellent and therefore no unnecessary damage to the wound

·

There are 4 types:

 
[] WHITE for Adults
[] BLUE for the Hospitality
[] GREEN for babies and children
[] BRUIN for Animals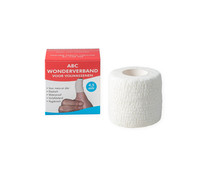 To assemble a first aid kit, all kinds of bandages and patches and a good scissors and / or tweezers are necessary. But recently, a good first aid kit is no longer complete without the latest product: Trophax Wonderverban ...