Shaving Products for sensitive skin
The shaving products Prep are medically safe to use in wet shaving and effectively help to prevent. Rashes from shaving
They ensure that your skin stays soft, cool and refreshed. The Prep shaving cream is specially formulated to protect sensitive skin and to deliver. Pleasant, pain-free shave method, or you day after day
Prep Each product contains a percentage of Prep essence, which is a unique collection of essential oils with natural active substances because of their cooling, soothing and nurturing conditions. These ingredients help you and yours to run smoothly. The shaving process more enjoyable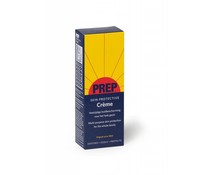 PREP is originally an American product and was used by millions of people since 1872. PREP was introduced in the Netherlands in 1936. Now available again via Trophax OTC.
Prep Multi-use skin cream, suitable for all superficial skin wounds, such as baby bills, after sunburn, piercing, etc. Now available via Trophax OTC.
Prep Shaving Foam is based on the unique properties of the Prep Multi Skin Cream. This shaving cream in aerosol removes the face - and body hair effectively.