Care of the Skin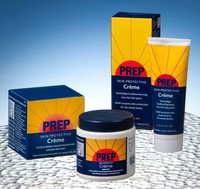 The skin is our largest organ and, therefore, very important. Also, the skin is our most influential body because it protects us from rain, sun, snow, frost, wind, in short, all conceivable weather conditions. That damage or wounds or other external attacks on the skin should be quickly and effectively resolved clearly.
Prep Cream originates from the United States and became a manufacturing chemist named Mark W. Allen, invented in 1860. He lived in Detroit, Michigan and he started with the production of this brand in 1863.
Between the First and Second World Wars, Prep found its way to Italy, South Africa and the Netherlands, where the mark in each country has become a household name for more than 80 years.
The formula of Prep has remained largely unchanged in all those years.

KEY BENEFITS OF PREP CREAM:

Prep Cream has a unique skin protectant composition, a combination of natural aromatic compounds, essential oils and lubricants on the basis of an emollient cream.
Prep also contains a powerful antiseptic that helps to keep the skin clean.

The active components in Prep Cream have the following effects on the skin:
* Emollient
* Cooling
* Antiseptic
* Emollient
* And a mild narcotic effect.
All this makes Prep Cream for all skin types and is particularly effective for the protection of sensitive skin.

Relieving SKIN IRRITATION
Prep Cream can be used for the entire family as it has a wide range of uses for skin complaints, such as to lighten the skin:
A dry and cracked skin
Irritation after exercise
Insect bites and stabbing
Burning sun
The irritation of diaper rash
Tired feet.
Prep Cream can also be used as a tool in patients who suffer from bedsores.
Massage with Prep Cream refreshes the skin and promotes circulation. This combination can help to reduce. The risk of bed sores (decubitus)