magnesium deficiency
Ordering and delivery information
Order from us before 14:00 pm, then today we still put the transmission in motion. You can contact us securely pay online with iDEAL or PayPal. If you have questions about the delivery of your order please call our customer service telephone number
036-7440440.
Do you have any questions about our products please call
+31 78 6105727.
We will answer your question please!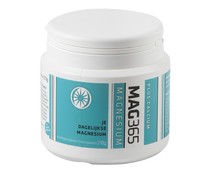 You will find a wide range MAG365 magnesium powder products. This magnesium product is new on the market for food supplements. In general, magnesium is considered as an essential part of the daily diet.